Best UK Vaporizers
V2 Pro Vaporizer
Who are V2?
V2 Cigs in the UK are based in Peterborough. They also have distribution centres in the USA & Europe. They are the USA's No1 on-line e cig and vape pen brand. It is one of the only E-Cig companies that has its own dedicated manufacturing facility ensuring complete control over quality. This is probably what puts them ahead of the competition.
The V2 Pro is a 3-in-1 vaporizer having the ability to "vape" three different materials – E-Liquid, tobacco/dry herb and essential oils. ie one vape pen does the job. It is equipped with smart technology that automatically recognises each cartridge type and adapts its voltage dependent on which material you are using – it thinks!
The new V2 Pro Series 3X is expected to be released mid 2017.
The Kit
V2 Series 3 Vaporizer device
E-liquid tank
Magnetic USB charger
Manuals Etc
The Technical Bit
650 mAh Battery
2- 4.2 Voltage (Automatically changes depending on what you are vaping)
Weight 54g (Empty tank)
14 cm Length
 Our Thoughts
The V2 Pro Vaporizer has a sleek and luxurious design. Its very stylish and stands out from other Vaporizers. The unique design is definitely a talking point. The tank + charger magnetically "drop" into the V2 Pro and to take it apart again you just pull on the top and it snaps back out. There is no leakage whatsoever.
We like the superior quality of the smoking experience, if you are smoking 20+ cigs a day this is an ideal vaporizer e cigarette. You can actually purchase a "loose leaf" tank/cartomizer which you can use to Vapourize Loose Leaf Tobacco or herbs, you avoid all negative health impacts of combustion and inhaling the chemicals associated with traditional cigarettes. It also won't burn the hair in your lungs which traditional cigarettes do!
This is our most recommended vape product for people looking for a quality vaporizer at a reasonable price tag.
Price: £59.99 (Normally £80.00)
Jac Vapour Vapourizer
The Next Best Vapourizer?
This is our second choice best vape pen –  nothing really comes close to the V2 Pro technology but the Jac Vapour does have a number of features we also think are good. It does not however have the ability to vape anything other than e liquids.
Who are Jac Vapour?
Jac Vapour are one the the UK's leading E Cig brands, they operate from Scotland and they do aspire to make good quality product.
The Kit
1 x Series E Battery
1 x Aero Tank 1.8 Ohm
1 x Charger
1x Beauty Ring
The Technical Bit
 Battery – 1000 MAh
3.7-4.8v (Adjustable)
510 Ego Thread connector
Vapour Tank Components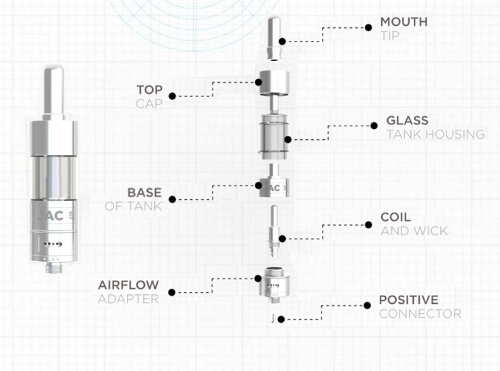 Our Thoughts
The beefy Jac Vapour Aero Vaporizer is a good quality product, it feels good to hold, if not a bit too bulky. Compared with the competition the build quality and design is actually very good. The design is simple, but it works. The vapour production is pretty good as well. In the vaporizer/larger device space the vast majority of companies play safe and offer a very generic vaporiser – different look perhaps but same basic components – not much difference between them in terms of quality or technology. The Jac Vapour design sticks with the 510 thread system, so there is nothing stopping you popping on our favourite Aspire Cleito or any tank you currently own, unlike the V2's unique innovative system. The downside to this is that the Jac Vapour and the vast majority of vaporisers are inferior systems – far too many parts resulting in the risk of leaks. You have to replace coils, seals and a number of other components as they have a life span. This involves opening up the tank and removing the old components to replace it with the new. This means it can all gets a bit messy with e liquid and fiddling about with bits. Some review sites do like the Aero but none have it marked as their best UK Vape Pen. Again V2 is the pack leader here and brave enough to push through new design and technology barriers with their magnetic device which does not require internal coil/component replacements. Jac Vapour is good but its not the V2 Pro!
Price: £50-£75 based on options selected