e-Liquid Reviews
Why are we reviewing E liquids? Know what your inhaling!
Here we review KIK e liquid, V2 Platinum and ECO-vape VSAVI e juices. I personally think, switching to Electric Cigarettes from tobacco cigs is a good thing. Although the World Health Organization and the NHS do not support it as a smoking cessation technique, this is mainly down to the unknown health risks, and the unknown chemicals in some E liquids.
UPDATE: September 2015: Eventually (PHE) Public Health England accept that e liquids are less harmful than tobacco and that they can be helpful for smokers to stop smoking
"…e-cigarettes are significantly less harmful to health than tobacco and have the potential to help smokers quit smoking." – see the full report here at www.gov.uk
E Cigs and e liquids are notorious for being made in China and other unregulated regions, with limited knowledge of what is in them as they are not currently regulated. Some e-liquids are far better than others though, with some listing exactly what is in them, and conduct batch tests for each batch of E-liquids. Some are prepared in warehouses no doubt and a few in proper laboratories. These can be slightly more expensive but does that not make you think? Why do they cost a bit more when all they are doing is being truthful with what is in them? Its a worrying factor and nobody wants a repeat of how tobacco cigarettes started, with virtually no information on impacts of health or what was contained in them – Deja vu?
The E liquids we are going to review Platinum E Liquid manufactured by V2, Kik liquids & ECOpure Liquid – Ecopure has now been replaced with ECO-vape VSAVI e juice, 100% VG e liquid, organic too. that is organic too. All brands are pretty big, they all ship to other countries.
V2 are the largest on-line distributor of Ecigs in the USA, the quality of the components is second to none including their liquid. See our best Best UK Vape Pen Reviews here.
ECOpure and ECOvape VSAVI are brands recommended to me after trying my regular E-Liquid. They use proper laboratories, proper testing on all their e-liquid which incidentally is all UK & EU made.
Kik are relatively new, they have just hit the scene and looks like a very expensive marketing budget and a premium (PR!) feel about their products. They use organic flavourings but say nothing about using medical grade ingredients in their product that I can find.
Our testing:
We test all liquid under the same conditions:
Brand new standard cartomizer for each liquid
1 full refill used at least with each liquid to ensure vape production lasts and get a real feel for the liquid.
A standard high quality battery at 4.2V
For this instance we will use all basic tobacco flavours, to keep it as fair as possible.
All liquid is medium strength close to 18mg as we can get.
E-Liquid Summary
See Full E Liquid Reviews Below
For us the real runway winner is V2 Platinum E-Liquids, with the highest quality Liquid, batch testing and complete openness about the ingredients. Simply the cleanest and best e-juice out there.
If you are experimenting with obscure flavours then you could try really funky flavours at any of the on-line eliquid shops. But buyer beware you wont get to know exactly what you are vaping – stick to V2 for a great, clean & consistent vaping experience. You can Find out more about them here.
VSAVI ECOpure E-Liquid Review. VG e liquid
I want to know what is going into my body, I want the purest liquid, with pure ingredients, pharmaceutical grade, nothing less. Is that too much to ask for something I'm inhaling?
Update: EcoVape has rebranded to VSAVI e liquid
ECOpure agree with this, they only use pharmaceutical grade E-Liquid, the purest ingredients, and I like this. They focus on producing the best tobacco e-liquids for the purist. No big range of fruit flavours here. The new ECOvape VSAVI e-Liquid range that replaces ECOpure now has a good range of flavours for the SHISHA Pen user and regular Vaper, ECOvape also boast ORGANIC ingredients.
The smoke production is great, the flavour I tried is a bit sweet for me but still a really nice smoke. For those who have a reaction to PG e-liquid, ECOpure and ECO-vape VSAVI are clean 100% VG e-liquids.
VSAVI is without any doubt the best VG e-liquid in the UK. View Here
Pros:
Fewer ingredients – all medical grade quality
100% VG so maximum vapour for cloud chasers!
Tested in EH/UK at bio-science facility at the university of Manchester
Full European MSDS Certification
Thinner VG liquid – wont clog up tanks
Good throat hit
Big vapour production
Best alternative to PG E liquid
KiK eLiquid Review.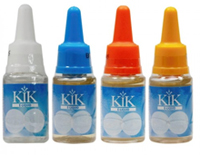 According to their website Kik e Cigs prides themselves on "quality, service & satisfaction" we got hold of some Kik liquid, and we test with the basic ecig set-up as laid out above – standard CE4 Atomizer and standard battery of high quality.
We tested top range "Gold Tobacco 16mg" from Kik, filled our tank and got vaping.
First impressions were okay, smoke production was fairly typical, an improvement over the cheap ones you get at the supermarket, but definitely not in the same league as my regular E-Liquid an others that I have tried.
KIK flavour was really good, really smoke like with a hint of something else. Couldn't put my finger on what it was.
Looking further into the information regarding the liquids from Kik I found the following information:
" All our flavours are made using 100% organic ingredients. We have carefully selected something for everyone from Traditional tobacco vape juice flavours to Strawberry and Energy Drink.  "
However that is pretty much all the information I could find, this really infuriates me, I want to know what I am inhaling, and even more of a puzzle is that they do the"Gold" version of e-liquid which is supposedly better in every way.
"KiK GOLD is an all European e-liquid made to the highest specification for the ultimate alternative to smoking. All ingredients are meticulously sourced from the UK, France and Germany and mixed by master chemists in the EU for exceptional quality"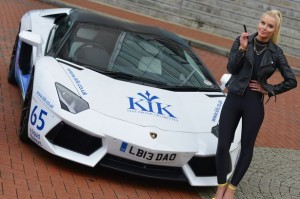 Again this raises more questions than it answers, what does the regular KIK e liquid contain, and is that not mixed by master chemists? Just regular chemists for the regular liquid then…
I like transparency in a company, I don't see this with KiK – I think they are targeting the "cool" market and want to come across stylish, but with little regard for quality. I think this image of Helen Flanagan says it all:
Pros:
Prices are reasonably very low
A massive array of KIK liquids & Flavours
Cons:
The information on KIK liquid is far too limited
No idea what testing is done on the liquid
No idea what is even in the liquid with any certainty
Lower quality than competition?
V2 E Liquid
The best E-Liquid of choice
From V2 we received some "Platinum E liquid" of "Red" and "Congress". These are 2 of the 3 tobacco e liquid flavours they offer – they also have the menthol bases covered – Mint Tea Menthol and Peppermint ! V2 or Vapour 2 in EU is the #1 selling e cigarette brand in the USA, so they have certainly got the e-liquid side of things sorted. More loyal customers means more demand for proper tobacco flavours and full ingredient transparency. An e liquid company you can trust!
Firstly smoke or vapour production, this was excellent accompanied by a really good throat hit. The Nicotine level is 18mg and they are displayed in % on the bottles. For instance this is sold at 0.6 to 2.4mg strength. There is also 0mg nicotine variants in all flavours, which ideally when moving over to electronic cigarettes you should work towards smoking the 0% version. That being said the throat hit of these was first-rate, really made me feel like I was smoking, though there is only a tiny bit more nicotine than the other brands. Really happy with that.
Information on liquid this time round is astounding, absolute transparency with every e -liquid sold having its own batch number and full on-line lab test report. The FAQ section has tons of info, including a comparison between their e liquid flavours and traditional Cigarettes, perfect if your trying to quit and your brand is listed:
Guidance on which e-liquid flavours is the best match to your previous smoking brand
V2 Red has a similar flavour profile to the following traditional tobacco brands: Marlboro®1, Pall Mall®2, Winston®2, Basic®1, Lucky Strike®3, Doral®2 and Chesterfield®1.
V2 Congress has a similar flavour profile to the following traditional tobacco brands: Parliament®1, Marlboro®1 Lights, Viceroy®3, Benson & Hedges®1, Merit®1, Kent®3, and L&M®1.
V2 Sahara has a similar flavour profile to the following traditional tobacco brands: Camel®2, Kent®3, American Spirit®4, Merit®1, and many European cigarette varieties.
V2 Menthol has a similar flavour profile to the following traditional tobacco brands: Kool®2, Salem®2, Newport®5, Marlboro®1 Menthol, and Basic®1 Menthol.
Obviously they won't taste exactly the same but there are many brands listed there which can really help stop smoking the real things.
In addition to that there is a full breakdown of all ingredients used, and batch reports for every batch of e liquid produced for you to view here, if you want more info check out the FAQ. I can find no other e-liquid supplier who goes this far to evidence the quality of their e-liquid products.
I think the biggest difference between V2 and the other brands is their target audience is the serious vaper or the ex-smokers who demands the highest quality vaping experience. Gourmet e-liquids.
Pros:
Best vapour production of all the brands
Best Flavour and throat hit
Full and transparent information about their liquids available to consumers.
Cons:
Slightly limited flavour selection if you wanted to try extreme or the more obscure flavours – possibly due to how meticulous they are with ingredients?
Security Bottles harder to open
Shop here.
Conclusion
For us the real runway winner is V2 e liquid, with the highest quality gourmet e-Liquids, batch testing and complete openness about the ingredients.
If you are experimenting with obscure flavours then you could try really funky flavours at at any of the recommended on-line e-juice shops. But buyer beware you wont get to know exactly what you are vaping – stick to V2 juice for a great consistent vaping experience. You can Find out more about V2 e juices here.