Best UK Vaporizers
#1: V2 Pro 3 Vape Pen
Best Vaporiser; V2 Pro Range
Pros
Versatile. 1 pen vapes all
Excellent Vapour
Great for CBD, dry herb & e liquid
Magnetic = no leaks
Who are V2?
V2 Cigs are now in the UK! In addition V2 also have distribution centres in the USA & Europe. In the UK and EU they are branded Vapour2. They are the USA's Number 1 on-line e cig and vape pen brand. It is one of the only E-Cig companies that has its own dedicated manufacturing facility ensuring complete control over quality. This is probably what puts them ahead of the competition.
The V2 Pro is a 3-in-1 vaporizer has the ability to "vape" three different materials – E-Liquid, tobacco/dry herb and essential oils. ie one vape pen does the job.
However, although it has this additional functionality, it is without doubt the number one vape pen for vaping e liquid! It is equipped with smart technology that automatically recognises each cartridge type and adapts its voltage dependent on which material you are using – it thinks!
The new V2 Pro Series 3X vape pen is now available in the UK which has additional functionality including ceramic coils which facilitates sub ohm vaping and enhanced vapour flavour.
V2 Pro 3 Vape Pen Kit Content
V2 Series 3 Vaporizer device
Magnetic E-liquid tank
Magnetic USB charger
Manuals Etc
The Technical Bit
650 -750 mAh Battery
2- 4.2 Voltage (Automatically changes depending on what you are vaping)
Weight 54g (Empty tank)
14 cm Length
Our Thoughts
The V2 Pro Vaporizer has a sleek and luxurious design. Its very stylish and stands out from other Vaporizers. The unique design is definitely a talking point. The tank + charger magnetically "drop" into the V2 Pro and to take it apart again you just pull on the top and it snaps back out. There is no leakage whatsoever.
We like the superior quality of the smoking experience, if you are smoking 20+ cigs a day this is an ideal vaporizer e cigarette. You can actually purchase a "loose leaf" tank/cartomizer which you can use to Vapourize Loose Leaf Tobacco or herbs, you avoid all negative health impacts of combustion and inhaling the chemicals associated with traditional cigarettes. It also won't burn the tiny hairs, cilia, in your lungs which traditional cigarettes do!
As a result of all the advantages the Pro 3 has, this is our most recommended vape product for people looking for a quality vaporizer at a reasonable price tag. The UK's best vape pen at the moment without doubt.
Price: £49.99 (Normally £74.99)
#2: The XEO Void Vape Pen
The Xeo Void vape pen is somewhat different to the vast majority of the vape devices out there. Like the Pro 3X this device offers sub ohm vaping in a vape pen design and there are not many pen devices that offer this. Most devices are designed and manufactured in China and tend to be much the same. The Void however is designed in Germany, and this defines the quality of the Void which is far superior than the competition. It also looks absolutely stunning with a unique curved triangular shape. Firstly it doesn't roll of the table when you set it down and second it does feel very comfortable in your hand!
Void Vape Pen Features
The vaporizer kit comes with both a standard coil (1 ohm) and a sub ohm coil (0.6 ohm) so that the user can vary the vaping style. Either "mouth-to- lung" using the standard coil or "direct-to-lung" using the sub ohm coil. The German design is fastidious, everything is tight and solid and this makes it leak-proof. It also has a child proof function!
There is also a neat, almost invisible air intake adjustment dial which allows the vaper to control the intensity of the vapour by allowing more or less air into the mouth when vaping. This also affects the draw resistance. Some like a tight draw meaning as you inhale you can feel the resistance in much the same way as smoking a cigarette. Other vapers prefer a freer draw, less resistance.
These two features combined with the two types of coil means that you can vary the overall vaping experience to your exact specific needs. And this is important when you are quitting smoking. You need to feel comfortable – the vaping experience should replace the need to smoke so getting the right "feel" is important. If it doesn't feel right or replicate your smoking habit it will mean you are less likely to quit.
Vape e-Liquid
There are three window slits along each side of the vape pen which allow you to know how full your e juice tank is too. To ensure longer life of the coils you should always keep the e liquid level above empty. Most noteworthy, the e juice is held in the body of the vape pen and not in a separate tank which is a big advantage as you do not have to replace any tank! In addition you have the added advantage of having a powerful 1500 maH rechargeable battery, you can charge your Void vaporizer overnight and be confident that your vape device will give you all day vaping with solid battery life and never be out of e liquid.
Void Vape Pen Kit Content
1 x XEO VOID Vaporizer (1500mAh) with a 2ml Tank
1 x VOID Atomizer Head 0.6 Ohm for Sub-Ohm vaping (vape to lungs)
1 x VOID Atomizer Head 1.0 Ohm (mouth to lungs vaping)
1 x Instruction Manual
1 x Micro USB Cable
Our Thoughts
Like the Pro 3X you have big advantages over the majority of vape pens in that you have both standard vaping and sub ohm vaping capability and this gives you flexibility to try different vaping style to see which best suits you.
In your endeavour to quit smoking getting the right device can mean the difference between stopping smoking or going back to old habits, the device you use is critical. And this is where the likes of the Pro 3 and Void come out on top. Like many things in life, you pay a bit more for quality initially, but longer term you avoid regret!
The XEO Void's small form, leak free and well designed features with high specification makes the Void a vaporizer to be reckoned with.
Price: £36.99 (Normally £50.00)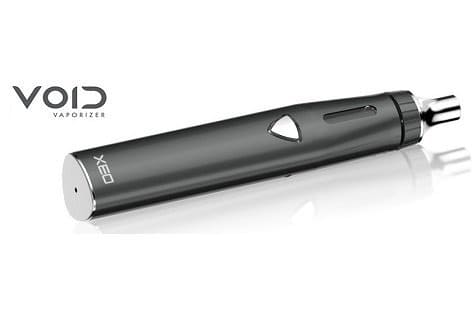 #2 Best Vaporizer; Xeo Void
Pros
Solid German design
Sub ohm coil option
In-built e juice tank so no leaks
Child proof lock
Cons
A bit chunky if you want to be picky
#3: Jac Vapour Vapourizer
The Next Best Vape Pen?
This is our final choice of "best vape pen UK " brand and deserves a place as one of the top 10 e cigarettes available in a vape pen style. Nothing really comes close to the V2 Pro technology but the Jac Vapour does have a number of features we also think are good. It does not however have the ability to vape anything other than e liquids.
Who are Jac Vapour?
Jac Vapour are one the the UK's leading E Cig brands, they operate from Scotland and they do aspire to make good quality product.
The Jv vaporizer kit
1 x Series E Battery
1 x Aero Tank 1.8 Ohm
1 x Charger
1 x Beauty Ring
The Technical Bit
 Battery – 1000 MAh
3.7-4.8v (Adjustable)
510 Ego Thread connector
Vape Tank Components
Our Thoughts
The beefy Jac Vapour Aero Vaporizer is a good quality product, it feels good to hold, if not a bit too bulky. For vapers looking for a more powerful and much smaller device the Innokin Jem is a reliable all day alternative. Compared with the competition the Jac Vapour build quality and design is actually very good. The design is simple, but it works. The vapour production is pretty good as well. In the vaporizer/larger device space the vast majority of companies play safe and offer a very generic vaporiser. A different look perhaps but same basic components. There is not much difference between them in terms of quality or technology. The Jac Vapour design sticks with the 510 thread system, so there is nothing stopping you popping on our favourite Aspire Cleito or any tank you currently own, unlike the V2's unique innovative system. The downside to this is that the Jac Vapour and the vast majority of vaporisers are inferior systems. Far too many parts resulting in the risk of leaks. You have to replace coils, seals and a number of other components as they have a life span. As a result this involves opening up the e juice tank and removing the old components to replace it with the new. This means it can all gets a bit messy with e liquid and fiddling about with bits. Some review sites do like the Aero but none have it marked as their best UK Vape Pen. Again V2 is the pack leader here. V2 are brave enough to push through new design and technology barriers with their magnetic device. This means it does not require internal coil/component replacements. Jac Vapour is good but its not the V2 Pro!
Price: £50-£75 based on options selected
#3 Best Vape Pen
Pros
Good overall quality
Well designed
510 compatible
Cons
To many "moving parts", leak risk
Too generic